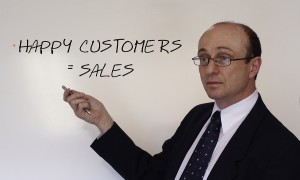 Customer service, which is aligned with customer retention, is a hugely important topic. It can make or break your business. Consumers have little patience for lousy customer service. They easily tire of waiting in long lines, trying to get a live person on the line, going through an interrogation to return something, or trying to communicate through a language barrier.
If you provide them with a simple, efficient, pleasant experience they will revisit your business over and over. More importantly, they will tell everyone they know!
There are three secrets to good customer service. The one we're discussing today is: Know exactly what YOU want.
You are the leader, the captain of the ship and the visionary for the future of your business. As such, you need to have a clearly defined plan for your business, and that includes customer service. There are three main goals you need to consider in the customer service arena:
It needs to be easy for your customers to do business with you. You can do this with advertised discounts, kiosks, your website and other technology based programs to help them shop.
Doing business with you needs to be a warm and pleasant experience. Your staff has to be knowledgeable, approachable, warm and patient. Your customers need to feel like they are getting a good value for their time and money. Perceived value goes beyond the price of the products and extends to their shopping experience.
Change your mind set and ask yourself "How can I NOT afford to do these things?" This shouldn't be a question of expenses, but making and keep happy customers. And remember, it is much less expensive to keep an existing customer, than it is to gain a new one.
With these thoughts in mind, you also need to take a few things into consideration when deciding on the actual programs and standards you'll put into place.
Share your customer service vision with the rest of your staff.
Connect your incentive programs and bonuses directly to customer service.
Monitor the level of customer service your staff is producing.
Know when you can ignore what your customers want.
Continuously focus on your goals.
Now that you know what you want, you can start thinking about how to meet those wants and create a positive customer service experience.
Contact me to help you create a powerful, effective, simple business plan. If you're having a hard time deciding on what you want, the tools, resources and coaching in our FREE test drive can help you define the wants and needs of your company in relation to customer service…and everything else!
Visit:  abundancebizacademy.com, theabundancecompany.com, and abundancecoaching.net/blog
Lynnea Hagen, owner, The Abundance Company, and The Abundance Business Academy program