You've heard that when it comes to solving problems or seeing possibilities, "two heads are better than one", right? For the past 9 months I've been working with 3 business partners, "birthing" a new business–and I can attest to the fact that 4 heads are more than twice as good as two! So imagine having a permanent group of five or six people who meet every week or two for the purpose of problem solving, brainstorming, networking, and encouraging and motivating each other! Gangbusters!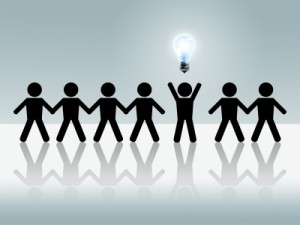 This process is called masterminding and is one of the most effective success tools you can adopt! It is a powerful way to support your dreams and bring unlimited resources to your business and personal life.
Bestselling author Jack Canfield states, "Participating in a mastermind group has been critical to me. I can't imagine achieving all I have without one, and it certainly made my goals happen much faster." So if the "big fish" do master-minding, why shouldn't you and I? For 3 years, I facilitated a mastermind group comprised of company presidents and CEO's, and it was inspiring to witness how the members helped each other reach goals faster, and achieve more in their personal lives as well.
The premise of a mastermind group is that more can be accomplished–and more quickly–when people work together. Often called a "dream team", mastermind groups are comprised of two or more individuals who commit to come together on a regular basis – usually biweekly, or monthly – to share ideas, information, thoughts, resources, feedback, and support.
Groups are comprised of members who are industry-specific, or from a variety of professions. The focus of your group could be on business, building income, starting a business, experiencing better life balance, or dealing with social or community problems.
Everyone in the group benefits from the empowerment, perspective, expertise and talents of other members, who can inspire and motivate you to become all you can be!
Create Your Master Mind Group
Choosing and inviting the right blend of people is key. Engage friendly, on-purpose, like-minded individuals…folks who are already where you'd like to be in your life – or even beyond that. Meet with one or two initial members, then add other agreed-upon people individuals who can and WILL work in harmony for the growth of each other.
1. 6-8 members is ideal. Less than 4 is not enough wisdom and support, and over 8 is too unwieldy to ensure full involvement of all members at a meeting.
2. Start off with weekly meetings, to help with the bonding and communiction-building. Afte 4-56 weekly meetings, consider meeting 1 or two times per month. Keep meetings to an hour to an hour and a half.
3. Group meetings must be regarded as "sacred times" and life-affirming. Keep meetings enriching, encouraging and upbeat…creating a space to affirm the members. You might want to start with an inspiring story or quote–or a short time of meditation or prayer.
4. Members must each agree to participate fully and openly, sharing ideas, contacts, information, support, feedback, i.e.: anything that could help the individual and group.
5. Kick off by each person share a "win", or something that they're grateful for since the last meeting.
6. Second, each member shares a challenge, or "open-door" since the last meeting, asking for the support they need. Appoint a time-keeper to keep the discussion on track and the meeting on time. This is critical for keeping the group viable. Everyone must get value, and have time to share, at each meeting.
7. Each person then states what they will complete or do before the next meeting.
8. Finish with celebrations of and for each other, as well as stated appreciation.
Accountability is THE GREATEST value of a mastermind group. The CEO groups I facilitated stated that that was the most powerful benefit of all. Making those commitments to other people is one way to ensure you'll accomplish more in less time!
Send me an email to get a list of Principles for Masterminding, go to TheAbundanceCompany.com for a free Attraction Marketing e-book, and tons of other free resources.
Onward and Upward!
Lynnea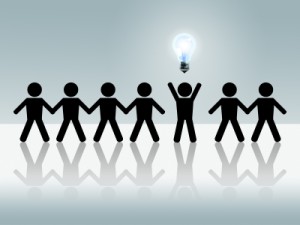 (
Image courtesy of Salvatore Vuono)