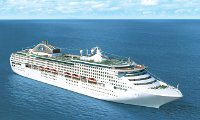 Hello Wonderful Fellow Business Owners!
The S.J. Silicon Valley Chamber is having another Business Builders Cruise "launch event" this Monday, Jan. 11th, at 6:30, at the Chamber headquarters. Please attend! The Princess Cruise Lines rep will be presenting ship and cruise details, and will answering questions as well. Please send the info to your clients, friends, associates…not just for the event, but for the cruise. It's on the Chamber website, and there's on-going info. being posted on the cruise website (www.businessbuilderscruise.com).
Monday's event AND the cruise are open to anybody…not just SJ Chamber members. I got a call from a man in Jerusalem, Israel who's interested in going, and a professor/author from Oregon will be presenting a workshop on the cruise.

The workshops alone are worth over $5000… plus you'll get to experience a fantastic guest speaker, have 1:1 times with the workshop presenters & other experts, have 10 nightly business mixers…plus have a GREAT trip!

I will be teaching two workshops, plus scheduling 1:1's with attendees.
Please check to cruise website often for updates…
I hope to see you in July abroad the beautiful Sea Princess!