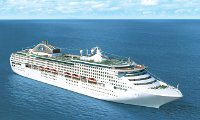 Ahoy Business Builders!
Where do business and pleasure mix?? On the First Annual Business Builders Cruise!
Join the San Jose-Silicon Valley Chamber of Commerce on a 10-day Alaska Cruise, leaving from San Francisco on July 1st!
We'll be sailing on the wonderful Sea Princess, enjoying tons of fun, food, mixers, workshops, speakers, scenery, and more. Plus, a business cruise = a FUN tax deduction!
Check here for more preliminary info. More info. coming on special guest speakers!